Knowledge Base > Message Centre Guide > Your Account
Sign Up
Before you can login to one2many's Message Centre you must first sign up for an account.
If you are yet to create an account you can sign up for a free account with credits by clicking the signup tab in the one2many Message Centre and follow the instructions below.
To signup for an account you will need to follow the link above and provide the following details: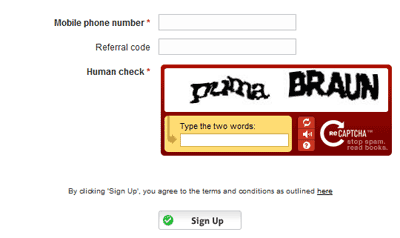 Fig 1:
Screenshot of signup form
Mobile phone number

Enter a valid Australian or New Zealand mobile phone number that you own and have access to.
Note: This number will be used to send you your one2many password.

Referral code

If you were referred to one2many you may have given you a referral code to use when signing up. If you do not have a referral code leave this field blank.

Human check

Please enter the words you see in the box, in order and separated by a space. Doing so helps prevent automated programs from abusing this service.
After reading and agreeing to the Terms and Conditions click Sign Up. You will then be redirected to the Message Centre login page. To login you will need to use your mobile phone number that you used to sign up and the password that was sent to you via SMS upon signing up, unless you have already changed it.
On your first login you will be requested to change your password. Your password must be at least 6 characters. We recommend that you use a mixture of UPPER and lower case letters as well as numbers and/or symbols to reduce the chance that someone will guess your password.
Logging In
You can login to the one2many Message Centre by clicking the 'Message Centre' button on the one2many homepage, or by https://mc.o2m.com.au to your favourites.
Lost Password
If you have forgotten your password you can enter the mobile number of your account and have your password it sent to you via SMS.