Knowledge Base > Message Centre Guide > Viewing History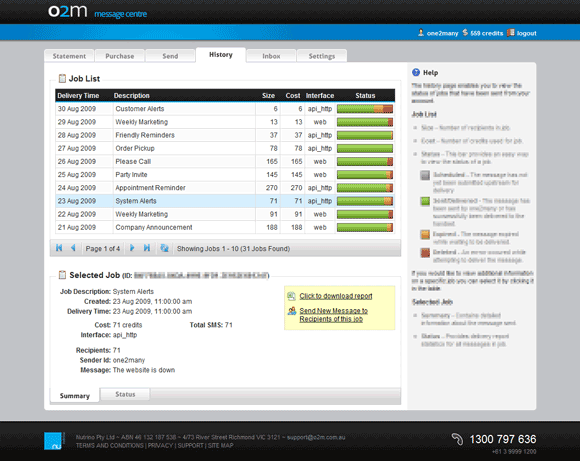 Fig 7:
History page - with job selected.
Previous jobs can be viewed on the history page.
All jobs are listed in order from most recent to oldest. The job list contains the following
Delivery Time

The time when the message was scheduled to be delivered

Description

A custom description created by you, if available.

Size

Total number of recipients in job.

Cost

Total number of credits used to send job.

Interface

The method used to send the job. e.g. web, api_http and api_https

Status

A brief indication of the delivery status.
The job list consists of multiple pages each with 10 jobs. You can cycle through the pages by clicking the navigation buttons below the table.
Additional information can be viewed by clicking on a row in the job list. When a job is selected you will be able to see the Sender Id and Message you sent in the 'Summary' tab and view a breakdown on the status from all messages sent in the 'Status' tab.
To understand what the status' mean see the one2many Message Status Guide.
In addition to this you can download a report in CSV format to determine which mobile numbers have failed and why by clicking on the 'download report' link.